About Us
Emilia's Delaroma is a Italian takeaway in Stretford. Why don't you try our Melon or Calzone Vegetable?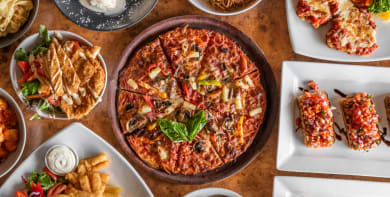 Reviews
39 reviews
Kevin
"Great food and service highly recommended"
04/09/2020
Gary
"Food ready on time, superbly cooked all dishes very tasty"
08/08/2020
Joe
"Second time ordering in a matter of weeks. Tried the pizza this time. Absolutely lovely. Went for the tomato garlic bread. Well nice. Got abit of a kick to it."
31/07/2020
Joe
"First time ordering. Lovely food. Definitely going to order again. Authentic Italian food. Might go and eat in next time looks like a really nice place"
26/07/2020
Menu
Soup of the Day
Traditional Italian soup
£3.80
La Bruschetta
Fresh bread topped with tomato, basil & olive oil
£3.45
Funghi Aglio
Mushrooms served in garlic, olive oil & fresh herbs
£4.25
Funghi Chami
Mushrooms served in garlic, olive oil & fresh herbs
£4.25
La Terrina all' Italiana
Chicken liver pate served with toasted bread & berry compote
£4.45
Costolette di Maiale
Pork ribs served in BBQ sauce
£6.60
Il Cocktail di Gamberetti
A prawn salad served with cucumber dressing & a spicy Marie Rose sauce
£4.85
Insalata di Pomodoro e Mozzarella
Fresh tomato with mozzarella, drizzled with pesto oil
£4.85
Il Fritto di Calamari
Deep fried squid with a tartar sauce
£4.85
Le Polpette Napoli
Spicy meatballs in a napoli sauce, topped with mozzarella cheese
£5.45
King Prawn Borgia
King prawns with asparagus & cream, with a touch of garlic
£6.25
Mussels (Starter)
Mussels cooked in tomato sauce OR cream sauce with garlic & Italian herbs
£6.25
Bolognese Spaghetti
Spaghetti OR penne served in a traditional beef sauce
£6.45
Bolognese Penne
Spaghetti OR penne served in a traditional beef sauce
£6.45
Carbonara Spaghetti
Spaghetti OR penne served with pancetta, parmesan cheese, cream & an egg yolk
£6.75
Carbonara Penne
Spaghetti OR penne served with pancetta, parmesan cheese, cream & an egg yolk
£6.75
Amatriciana Spaghetti
Spaghetti OR penne, chopped onions, bacon, chilli & garlic in a rich napoli sauce
£7.15
Amatriciana Penne
Spaghetti OR penne, chopped onions, bacon, chilli & garlic in a rich napoli sauce
£7.15
Le Penne alla Volcano
Penne pasta with cream, mushroom, chicken, sweetcorn & hot chilli
£7.95
Gamberoni Spaghetti
Spaghetti OR penne served with king prawns, chilli & garlic in a tomato sauce
£8.65
Gamberoni Penne
Spaghetti OR penne served with king prawns, chilli & garlic in a tomato sauce
£8.65
Primavera Spaghetti
Spaghetti OR penne, with mixed vegetables, cherry tomatoes & a touch of cream
£6.75
Primavera Penne
Spaghetti OR penne, with mixed vegetables, cherry tomatoes & a touch of cream
£6.75
Salmone Farfalle
Butterfly pasta with pieces of fresh salmon fillet in a creamy dill & paprika sauce
£7.45
Salmone Tagliatelle
Butterfly pasta with pieces of fresh salmon fillet in a creamy dill & paprika sauce
£7.45
Lasagne al Forno
Layers of pasta, bolognese sauce, cheese sauce & parmesan cheese baked in the oven
£6.95
Cannelloni alla Romana
Rolled pasta sheets filled with spinach & baked with a tomato & cheese sauce
£6.95
Risotto Paesana
Basmati rice served with chicken, mushrooms, peppers & onions & a touch of cream
£7.95
Risotto Pescatore
Basmati rice served with a selection of seafood served in a tomato sauce
£7.95
Pasticcio
Penne & spaghetti, with ham, peas, bolognese & a touch of cream
£7.45
Penne Spinachi
Penne pasta with spinach, sweetcorn, cream & chilli sauce, oven baked & topped with cheese
£7.45
Vitello Funghi
Escalopes of veal cooked in a sauce of mushrooms, white wine & cream
£13.95
Il Pollo alla Roma
A fresh chicken breast stuffed with dolcelatte cheese & spinach, finished with a white wine & cream sauce
£12.75
Il Pollo alla Cacciatore
Oven roasted chicken breast with peppers, mushrooms, onions & red wine in a tomato sauce
£12.75
Pollo Boscaola
Chicken with tomato, garlic, peppers & wine
£12.75
Pollo alla Creama
Chicken with a cream & mushroom sauce
£12.75
Saltimbocca di Pollo
Chicken breast topped with ham & cheese served in a pepper sauce
£12.75
Il Salmone Fiammeggiato
A herb encrusted salmon fillet served on a bed of spring onion mash with a creamy dill sauce
£13.65
La Spigola al Forno
Pan-fried sea bass with cherry tomatoes, onions, peppers, white wine & herbs
£14.75
Mussels
Mussels cooked in a tomato sauce OR cream sauce with garlic & Italian herbs
£13.95
Margherita Pizza
Tomato & mozzarella
£5.50
Al Funghi Pizza
Tomato, mozzarella & mushrooms
£6.20
Sorrento Pizza
Tomato, mozzarella, mushrooms & ham
£7.15
Diavola Pizza
Tomato, mozzarella, salami, meatballs, onions & chilli
£7.65
Roma Pizza
Our speciality pizza with chicken, salami & peppers
£7.95
Vegetariana Pizza
Tomato, mozzarella & mixed vegetables
£6.95
Pescatore Pizza
Tomato, mozzarella & mixed seafood
£7.55
Quattro Stagioni Pizza
Tomato, mozzarella, mushrooms, ham, salami & olives
£7.65
Emilia's Special Pizza
Eggs, ham & salami
£7.65
Calzone de la Roma
Folded pizza with tomato, mozzarella, salami, chilli, onions, peppers & topped with hot napoli sauce
£7.95
Carreta de la Roma
Semi folded pizza with mushrooms, salami, peppers, hot chilli & topped with hot napoli sauce
£7.95
Calzone Vegetable
Folded pizza with tomato, mozzarella, mushroom, peppers & onion
£7.95
Hot Calzone
Folded pizza with tomato, mozzarella, mushroom, peppers, chilli & meatballs topped with a bolognese sauce
£7.95
Garlic Bread With Tomato & Chilli
£3.45
La Patatine Fritte
Thinly cut fried potato chips
£2.65
Contact Us
Find Us
30 Davyhulme Road East, Stretford, M320DW
We deliver to
M14, M15, M16, M21, M32, M33, M41