About Us
Emilia's Delaroma is a Italian takeaway in Stretford. Why don't you try our Melon or Calzone Vegetable?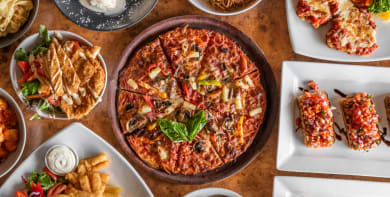 Reviews
17 reviews
Eddie
"Excellent service, food was hot when it arrived on time and all meals were faultless. Will definitely be using again."
31/05/2020
Liz
"Perfect! Everything was delicious and service was excellent. Well done guys will be back soon"
27/05/2020
Charlotte
"Great food, very delicious and great service!"
27/05/2020
Jane
"Lovely fresh food, well packaged and lots of it. Thank you. Can't wait till we can come and eat in the restaurant once you open back up"
24/05/2020
Menu
Soup of the Day
Traditional Italian soup
£3.80
La Bruschetta
Fresh bread topped with tomato, basil & olive oil
£3.45
Funghi Aglio
Mushrooms served in garlic, olive oil & fresh herbs
£4.25
Funghi Chami
Mushrooms served in garlic, olive oil & fresh herbs
£4.25
La Terrina all' Italiana
Chicken liver pate served with toasted bread & berry compote
£4.45
Costolette di Maiale
Pork ribs served in BBQ sauce
£6.60
Il Cocktail di Gamberetti
A prawn salad served with cucumber dressing & a spicy Marie Rose sauce
£4.85
Insalata di Pomodoro e Mozzarella
Fresh tomato with mozzarella, drizzled with pesto oil
£4.85
Il Fritto di Calamari
Deep fried squid with a tartar sauce
£4.85
Le Polpette Napoli
Spicy meatballs in a napoli sauce, topped with mozzarella cheese
£5.45
King Prawn Borgia
King prawns with asparagus & cream, with a touch of garlic
£6.25
Mussels (Starter)
Mussels cooked in tomato sauce OR cream sauce with garlic & Italian herbs
£6.25
Bolognese Spaghetti
Spaghetti OR penne served in a traditional beef sauce
£6.45
Bolognese Penne
Spaghetti OR penne served in a traditional beef sauce
£6.45
Carbonara Spaghetti
Spaghetti OR penne served with pancetta, parmesan cheese, cream & an egg yolk
£6.75
Carbonara Penne
Spaghetti OR penne served with pancetta, parmesan cheese, cream & an egg yolk
£6.75
Amatriciana Spaghetti
Spaghetti OR penne, chopped onions, bacon, chilli & garlic in a rich napoli sauce
£7.15
Amatriciana Penne
Spaghetti OR penne, chopped onions, bacon, chilli & garlic in a rich napoli sauce
£7.15
Le Penne alla Volcano
Penne pasta with cream, mushroom, chicken, sweetcorn & hot chilli
£7.95
Gamberoni Spaghetti
Spaghetti OR penne served with king prawns, chilli & garlic in a tomato sauce
£8.65
Gamberoni Penne
Spaghetti OR penne served with king prawns, chilli & garlic in a tomato sauce
£8.65
Primavera Spaghetti
Spaghetti OR penne, with mixed vegetables, cherry tomatoes & a touch of cream
£6.75
Primavera Penne
Spaghetti OR penne, with mixed vegetables, cherry tomatoes & a touch of cream
£6.75
Salmone Farfalle
Butterfly pasta with pieces of fresh salmon fillet in a creamy dill & paprika sauce
£7.45
Salmone Tagliatelle
Butterfly pasta with pieces of fresh salmon fillet in a creamy dill & paprika sauce
£7.45
Lasagne al Forno
Layers of pasta, bolognese sauce, cheese sauce & parmesan cheese baked in the oven
£6.95
Cannelloni alla Romana
Rolled pasta sheets filled with spinach & baked with a tomato & cheese sauce
£6.95
Risotto Paesana
Basmati rice served with chicken, mushrooms, peppers & onions & a touch of cream
£7.95
Risotto Pescatore
Basmati rice served with a selection of seafood served in a tomato sauce
£7.95
Pasticcio
Penne & spaghetti, with ham, peas, bolognese & a touch of cream
£7.45
Penne Spinachi
Penne pasta with spinach, sweetcorn, cream & chilli sauce, oven baked & topped with cheese
£7.45
Vitello Funghi
Escalopes of veal cooked in a sauce of mushrooms, white wine & cream
£13.95
Il Pollo alla Roma
A fresh chicken breast stuffed with dolcelatte cheese & spinach, finished with a white wine & cream sauce
£12.75
Il Pollo alla Cacciatore
Oven roasted chicken breast with peppers, mushrooms, onions & red wine in a tomato sauce
£12.75
Pollo Boscaola
Chicken with tomato, garlic, peppers & wine
£12.75
Pollo alla Creama
Chicken with a cream & mushroom sauce
£12.75
Saltimbocca di Pollo
Chicken breast topped with ham & cheese served in a pepper sauce
£12.75
Il Salmone Fiammeggiato
A herb encrusted salmon fillet served on a bed of spring onion mash with a creamy dill sauce
£13.65
La Spigola al Forno
Pan-fried sea bass with cherry tomatoes, onions, peppers, white wine & herbs
£14.75
Mussels
Mussels cooked in a tomato sauce OR cream sauce with garlic & Italian herbs
£13.95
Margherita Pizza
Tomato & mozzarella
£5.50
Al Funghi Pizza
Tomato, mozzarella & mushrooms
£6.20
Sorrento Pizza
Tomato, mozzarella, mushrooms & ham
£7.15
Diavola Pizza
Tomato, mozzarella, salami, meatballs, onions & chilli
£7.65
Roma Pizza
Our speciality pizza with chicken, salami & peppers
£7.95
Vegetariana Pizza
Tomato, mozzarella & mixed vegetables
£6.95
Pescatore Pizza
Tomato, mozzarella & mixed seafood
£7.55
Quattro Stagioni Pizza
Tomato, mozzarella, mushrooms, ham, salami & olives
£7.65
Emilia's Special Pizza
Eggs, ham & salami
£7.65
Calzone de la Roma
Folded pizza with tomato, mozzarella, salami, chilli, onions, peppers & topped with hot napoli sauce
£7.95
Carreta de la Roma
Semi folded pizza with mushrooms, salami, peppers, hot chilli & topped with hot napoli sauce
£7.95
Calzone Vegetable
Folded pizza with tomato, mozzarella, mushroom, peppers & onion
£7.95
Hot Calzone
Folded pizza with tomato, mozzarella, mushroom, peppers, chilli & meatballs topped with a bolognese sauce
£7.95
Garlic Bread With Tomato & Chilli
£3.45
La Patatine Fritte
Thinly cut fried potato chips
£2.65
Contact Us
Find Us
30 Davyhulme Road East, Stretford, M320DW
We deliver to
M14, M15, M16, M21, M32, M33, M41